Hi, everyone. In the first place, we wanted to apologyze because of our absence for this couple of months, but we had lots of essays to do and lots of exams to study, so... I think that's all. We just had some priorities. But now we're back again with much more comics, books, films and so on, so enjoy this weird victorianish stuff we're bringing for you. Today we will start with The amazing Screw-On head and other curious objects.
I can't remember pretty well how I get to know about this book, but I can remember pretty well my first contact with Mignola when I saw in October of 2004 the film adaptation of Hellboy. In that moment I was forced by myself to look for images of that Hellboy and, what a surprise when I found out that that red, rude and gross character was a comic came out of the mind of this genius. Since then I have wanted to read something but, for one reason of another, I never got one of his works until last birthday when I decided to get The amazing Screw-On head and other curious objects. Nowadays I'm still sorry about not having known earlier the work of Mike Mignola.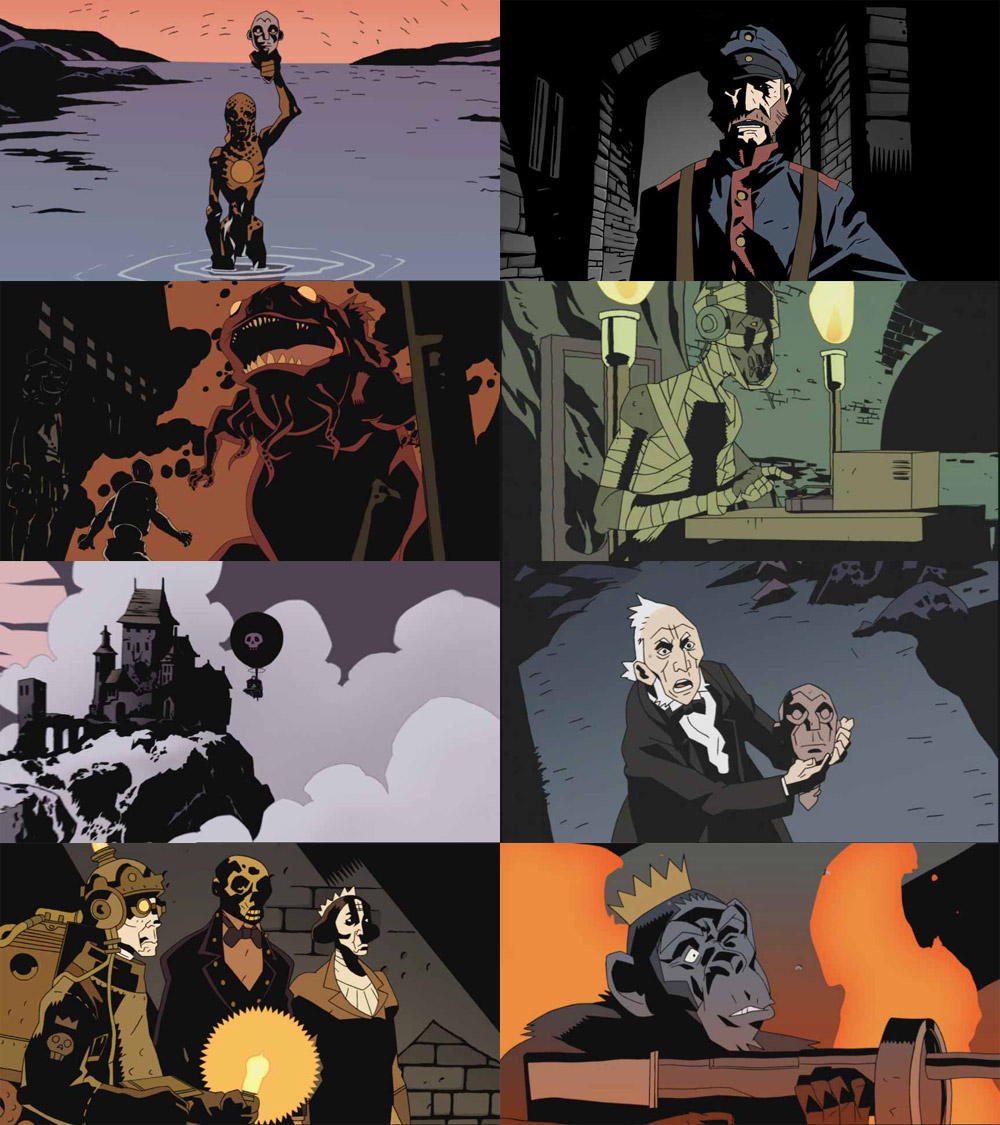 As it has happened in many times, The amazing Screw-On head and other curious objects is not a work based in and only character, the one that has its name, but a... Let's say anthology of short stories that came out of the mind of Mignola (even there's one came out of his seven years old daughter's). But I must say that, unlike in other people's works, I loved it, not just because of the nineteenth ambience that surrounds it, but because of the surreal and the fantastic of his stories, because of the dark, because of the symbolic... Even because of that close that he gives to it that barely has any sense until to understand it as a meeting point between stories that apparently have nothing to do with the others. Ultimately, a compendium of pulp stories sieved by his author's nightmares.
The truth is that I wouldn't dare which story I love the most, because each one has its points. The amazing Screw-On head would have been better if it would have been longer, because I think that it's a character that could be more versatile (what makes me regret that there's an only chapter in the series). Abu Gung and the magic beans seems to me a turn to the folktales that, although short, it's pretty clear and pretty... Pretty like a folktale, oi. The wizard and the snake is a cute way to hommage his own daughter, that has more right to be called the author of the story than Mignola himself. The witch and her soul is a little bit indifferent to me, but in The prisoner of Mars takes that strong idea about the pulp stories again, what even leaves you with a doubt about the story being true or false. Finally, The chapel of the curious objects, is a close added later to the previous stories that, although not having text, talks to us about past times, memories and regards that stay with us, taking duts until somebody wants them again.
The illustration is not usual at all. It's a way of drawing that, the same that other great painters and cartoonists as Rembrandt, Piranesi or Goya, could make any of his works being names as a Mignola. He plays a lot with colour spots, lights and shadows, with the ambience, but withouth giving too much importance to them, making the scenes to look like daily stuff. I think it gets to synthesize very well what he wants us to see, where he wants us to see it and how he wants us to see it, using lines that perfectly define hiw style and his stamp. A Mignola, as I think, needs no sign.
He's an author that I've read with many years of delay, and I'm seriously and deeply sorry for that, because I really liked it. Not just because knowing what to tell without rambling too much, but giving a completely personal vission of his own story. In conclusion, Mike Mignola, I love you.
* * * * *
Hola a todo el mundo. En primer lugar queríamos pedir perdón por nuestra ausencia de un par de meses, pero teníamos montones de trabajos que hacer y exámenes que estudiar, así que... Creo que eso es todo. Simplemente teníamos algunas prioridades. Pero ahora hemos vuelto con más comics, libros, películas y mucho más, así que disfrutad todas estas rarezas victorianoides que os traemos. Hoy lo retomamos con El increíble Cabeza de Tornillo y otros objetos extraños.
No recuerdo muy bien cómo llegué a saber de la existencia de esta obra, aunque sí que recuerdo que mi primer contacto con Mignola cuando vi en el cine en Octubre de 2004 la adaptación al cine de Hellboy. En aquel momento me vi obligado a buscar imágenes del nombrado Hellboy y, cuál fue mi sorpresa, que aquel ser rojo, rudo y grosero era un cómic de esta mente genial. Desde entonces llevo queriendo leer algo suyo pero, por uno u otro motivo terminaba por no hacerme con ninguna de sus obras hasta que para mi último cumpleaños me decidí a hacerme con El asombroso Cabeza de Tornillo y otros objetos extraños
. A día de hoy me arrepiento seriamente de no haber conocido antes a Mike Mignola.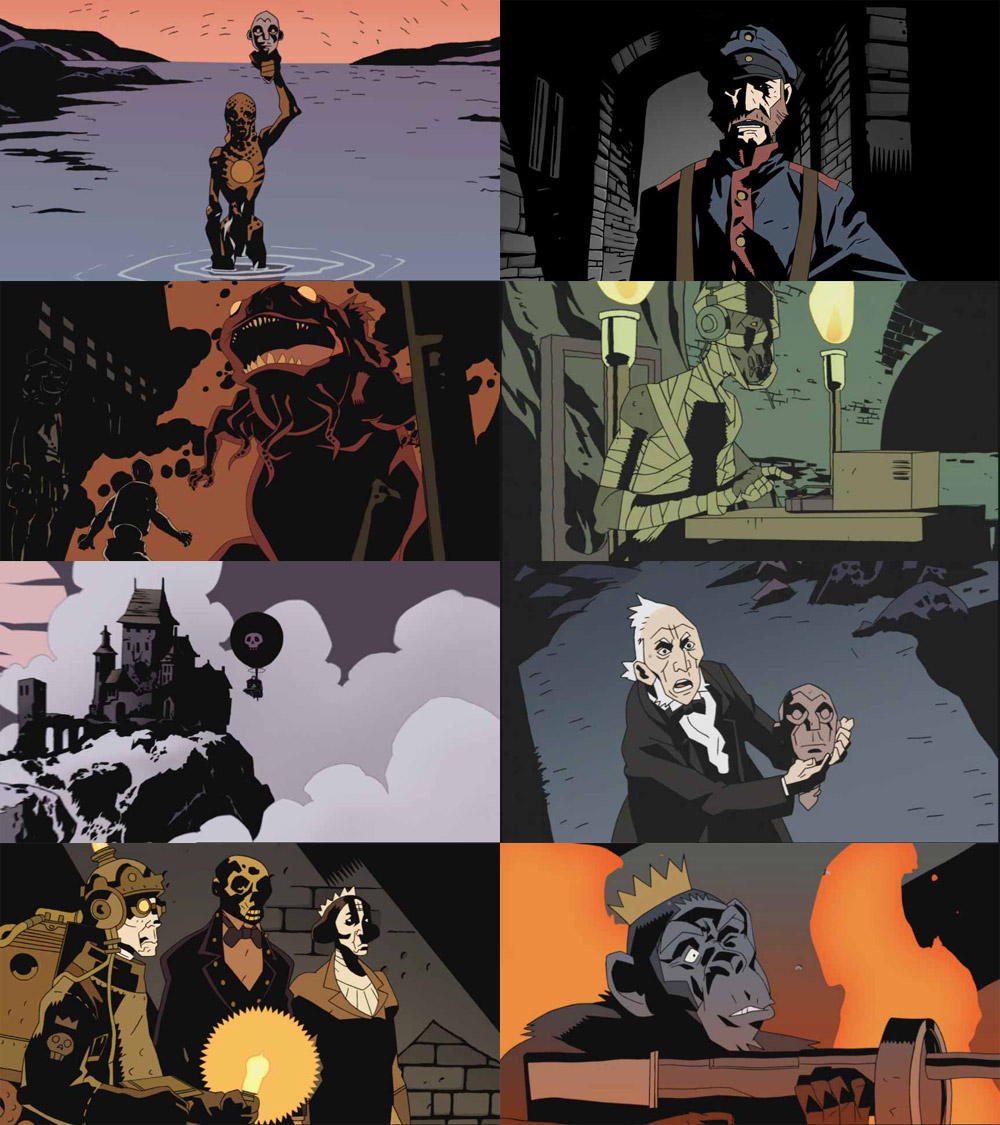 Como ya me ha pasado en otras ocasiones, El asombroso Cabeza de Tornillo y otros objetos extraños no es un tomo dedicado en exclusiva al personaje que le da nombre, sino que se trata de una... Digámosle antología de relatos breves que surgen de la mente de Mignola (o incluso de la de su hija de 7 años en ese momento). Eso sí, al contrario que otras, me ha encantado, ya no sólo por el ambiente decimonónico que lo rodea, sino por lo surreal y fantástico de sus historias, por lo oscuro, por lo simbólico... Incluso por ese cierre que le da que apenas tiene sentido hasta que lo entiendes como un cierre a todo lo leído anteriormente, como un punto de unión entre historias que aparentemente no se relacionan entre sí. En definitiva, un compendio de relatos pulp tamizados por las pesadillas de su autor.
La verdad es que no me atrevería a decir qué relato me gusta más, porque cada uno es de su padre y de su madre. El asombroso Cabeza de Tornillo hubiera estado mejor si se hubiera alargado, porque creo que es un personaje que podría dar mucho más de sí (cosa que también me hace lamentar que la serie se quedara en un único capítulo. Abu Gung y las judías mágicas me parece una vuelta a los cuentos populares que, aunque breve, es muy claro y muy... Muy de cuento popular, vaya. El mago y la serpiente me parece una bonita manera de homenajear a su propia hija, que casi es más autora del relato que el propio Mignola. La bruja y su alma pasa algo más sin pena ni gloria para mi gusto, pero en El prisionero de Marte retoma esa fuerte idea del relato pulp que deja incluso con un final que permite la duda de si lo contado es cierto o no. Finalmente, En la capilla de los objetos extraños, es un cierre añadido posteriormente a todos los relatos anteriores que, aunque sin texto, nos habla de tiempos pasados, de memorias y de recuerdos que quedan en nosotros, cogiendo polvo hasta que alguien acude de nuevo a ellos.
La ilustración no es para nada convencional. Es de un estilo que, al igual que otros grandes pintores o dibujantes como Rembrandt, Piranesi o Goya, podría hacer que cualquiera de sus obras se denominara como un Mignola. Juega mucho con manchas de color, con luces y sombras, con el ambiente, aunque sin darle excesiva importancia, haciendo que las escenas, que no son para nada comunes, se vean como algo cotidiano. Creo que consigue sintetizar muy bien qué quiere que veamos, dónde quiere que lo veamos y cómo quiere que lo veamos, usando además unas líneas que definen a la perfección su estilo y su sello. Un Mignola, como digo, no necesita firma.
Es un autor al que he leído con varios años de retraso, de lo que me arrepiento seria y profundamente, porque me ha gustado mucho. No sólo por saber contar lo que quiere contar sin dar demasiados rodeos, sino por ofrecer una visión completamente personal de su propia historia. En definitiva, Mike Mignola, te amo.