We continue with the T-shirts with a print inspired by the steampunk culture. I have found another starring, this time, by characters that belongs to the japanese company
Sanrio
.
As I suppose you know, Sanrio has created icons so famous like Hello Kitty, My Melody, Cinnamoroll... and other less known.
This time, I'm going to talk about the first two: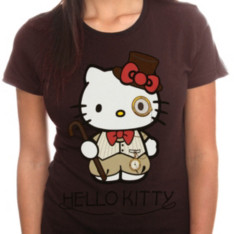 Hello Kitty is a little white kitty with a red ribbon (Althoug the color can change) that this time tries a top hat and a monocle. We can find a lot of different products inspired by her. Hello Kitty was designed by Yuko Shimizu in 1974 but today the position is held by Yuko Yamaguchi. Nowadays, Hello Kitty generates about 250 millions just selling licenses, a big deal I think.
Again, this T-shirt belongs to the shop Hottopic, in my oppinion this is one of the best prints that I have found on the internet.
On the other hand, he have the print inspired by My Melody, a white rabbit that always wears a hood, maybe it's less known. Created in 1975, but it becomes popular after a year in 1976, although it doesn't have the same success and revenue that Hello Kitty. Nowadays, it's very popular, specially in Asia.
In this case we can see an addaptation maybe more exaggerated, with an aviator cap and goggles, in the background a balloon with the sheep Hitsuji, a My Melody's friend. I have found this t-shirt in Amazon.
In my oppinion, I think it is original to see this characters out of their "context". As long as they don't fell in banality (Gears and more gears everywhere) it's a good way to make know the steampunk.
Continuando con las camisetas de estampado con cierta inspiración steampunk, han llegado a mis ojos otras tantas protagonizadas en este caso, por personajes de la compañía japonesa
Sanrio
.
Como supongo que sabréis,
Sanrio
ha sido creadora de iconos tan conocidos como Hello Kitty, My Melody, Cinnamoroll... Además de otros tantos quizá menos conocidos.
En este caso voy a centrarme en los dos primeros: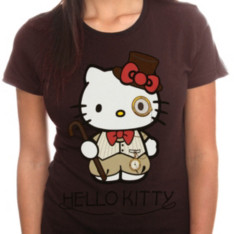 Hello Kitty, la pequeña gatita blanca con un lazo rojo (Aunque los colores también han ido variando), de la que podemos encontrar todo tipo de productos, se viste en este caso con sombrero de copa y monóculo. Diseñada por Yuko Shimizu en 1974, aunque hoy día el cargo se encuentra en manos de Yuko Yamaguchi; hoy día, la línea de Hello Kitty genera aproximadamente 250 millones de euros tan sólo con la venta de licencias, en el fondo fue un gran negocio.
De nuevo, se trata de un producto que he encontrado en
Hottopic
, además de una de las mejores diseños o adaptaciones de este personaje que he podido encontrar en internet.
Por otro lado, tenemos el diseño basado en My Melody, un conejito blanco siempre con capucha, quizá menos conocido, fue creada en 1975, pero no se popularizó hasta un año después, aunque no genera los mismo ingresos que Hello Kitty, se ha popularizado bastante, sobre todo en Asia.
En este caso, vemos una adaptación quizá mas exagerada, con un gorro de aviador y sus correspondientes goggles, de fondo, en globo, la oveja Hitsuji, compañera de My Melody. Esta camiseta la he encontrado en
Amazon
.
En cuanto a mi valoración, me parece original ver a estos personajes fuera de su "contexto" propio, o al menos al que nos tienen acostumbrados. Siempre que no caigan en la banalidad (Véase engranajes y más engranajes everywhere) es una buena forma de dar a conocer el steampunk.